What is Bliss?
One Eleven Bliss is a potent adaptogenic elixir made from the finest wild-crafted herbs from the tribes of India that assists with stress and anxiety, enlivens bliss chemistry and unity in meditation and helps to support deeper sleep.
Shop Now
Why you need it
Feel blissful during the day and cruise through your day's demands, find new depth in your meditations and sleep more deeply at night. Bliss contains Ashwagandha, Brahmi, Tulsi and multiple other potent adaptogenic herbs that work synergistically to have a calming effect on the nervous system and assist in pacifying an over-active mind. We call it 'Bliss', because for thousands of years these herbs have been taken by meditators to increase bliss chemistry in the brain and enliven the experience of unity. Bliss is designed to have a rejuvenating effect and supports healthy energy levels throughout the day but can also be taken before bed for a deep restful night's sleep. It is also helpful for restoring calm during any stressful situation.
Who it's for
Bliss is for anyone looking to restore a sense of calm and steady consistent energy to their day, to function at peak levels from the state of flow. Bliss is also helpful for people experiencing stress, anxiety, or performance anxiety. It's also loved by meditators all around the world due to its ability to increase bliss chemistry in the brain during meditation, pacify the nervous system and assist with deeper restorative sleep. Bliss can be added to coffee to reduce its negative and stimulating effects.
Stress & Anxiety
Emotional & mood support
Increasing bliss chemistry in meditation
Enlivening a sense of unity
Pacifying the nervous system
Sleep support
Steady, clean energy
Reducing the negative effects of coffee
Key Benefits
Why we created it
We are obsessed with Bliss here at One Eleven, being passionate meditators.This formula was originally created by wise masters in India over 14 generations ago, and these herbs have been enjoyed by meditators for thousands of years, increasing bliss chemistry and enlivening a sense of unity in meditation.
Chronic stress is the root cause of so many illnesses today. Knowing that stress in the world is at an all time high, we brought Bliss to you to help take the edge off and restore a sense of calm to your nervous system. It's our dream to see everyone enlivening more and more bliss in their daily lives, eyes closed and eyes open.
How to use
Take 1/4 teaspoon in any hot drink any time you like through the day, and/or twice a day before meditation for a more blissful experience. Add to your morning coffee to neutralise some of the over-stimulating effects of caffeine. Can be taken as needed during any stressful situation for support.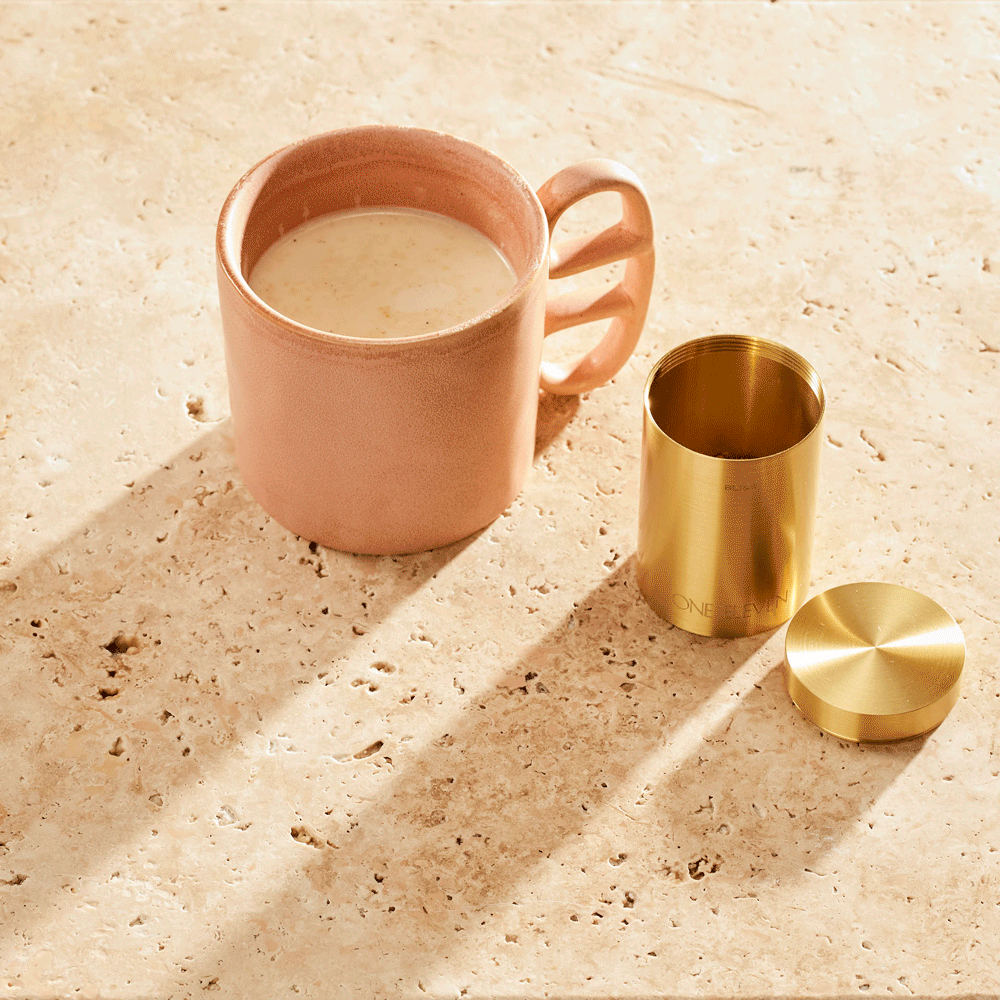 References
+
https://blog.priceplow.com/wp-content/uploads/2014/08/withania_review.pdf
https://pubmed.ncbi.nlm.nih.gov/23439798/
https://pubmed.ncbi.nlm.nih.gov/19789214/
Bhāvaprakāśah
https://pubmed.ncbi.nlm.nih.gov/21407960/
https://pubmed.ncbi.nlm.nih.gov/26989739/
https://pubmed.ncbi.nlm.nih.gov/25803089/
https://pubmed.ncbi.nlm.nih.gov/19504465/
https://pubmed.ncbi.nlm.nih.gov/26397759/
https://pubmed.ncbi.nlm.nih.gov/19388865/
https://pubmed.ncbi.nlm.nih.gov/24147038/
https://pubmed.ncbi.nlm.nih.gov/27037574/
https://pubmed.ncbi.nlm.nih.gov/28471731/
https://pubmed.ncbi.nlm.nih.gov/23211660/
Frawley & Lad, Yoga of Herbs, 1994
Mills & Bone, 2000
Bhāvaprakāśah
Bartram 1995.
Pranjpe 2001
Astanga Hrdaya Samhita
Bone 2003
Bhāvaprakāśa Pūrvakhaṇḍa, Karpūradi Varga
Yoga of Herbs, Frawley & Lad, 1994
Williamson 2002
Ayurvedic Medicine, Sebastian Pole, 2006.
Bhāvaprakāśah Pūrvakhaṇḍa
https://onlinelibrary.wiley.com/doi/10.1002/14356007.a11_141, Wikipedia.
Historical Study of Attars and essence making in Kannauj - http://iclesmjlibrary.weebly.com/uploads/2/2/7/6/22769452/projectreport.pdf
My Body, My Earth: The Practice of Somatic Archaeology" May 2008
"Complete Aromatherapy Handbook: Essential Oils for Radiant Health" June 30, 1991
Essential Oils and Aromatherapy for Beginners" Sept. 26, 2013
Huffington Post May 31, 2016
Bhāvaprakash
Bhavaprakāśa-Pūrvakhaṇḍa, Karpūradi Varga
Bensky & Gamble, 1986
Ayurvedic Medicine, Sebastian Pole, 2006
Paranjpe, 2001
Caraka Samhita, Sutrasthana, Chapter 25
Yoga of Herbs, Frawley & Lad 1994.
Astanga Samgraha of Vaghbata, Sutra Sthana
Bhavaprakāśa-Pūrvakhaṇḍa, Vaṭādi Varga
Ayurvedic Medicine, Sebastian Pole, 2006
Dwivedi et al 1987, Dwivedi and Jauhari 1997.
Paranjpe, 2001.
https://vitalveda.com.au/learn/amalaki/
https://vitalveda.com.au/learn/pearl/